The Merging of Design and Business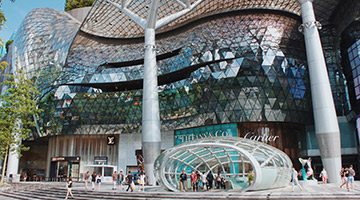 Furniture design and urban planning have helped Singapore make its mark at global festivals like the Venice Biennale of Architecture and Milan Design Week33.
Award-winning international architects have also worked on various projects in the country. This includes Learning Hub by Thomas Heatherwick34, the Interlace and DUO by Ole Scheeren35 and Jewel Changi Airport by Moshe Safdie36.
With the sheer number of green buildings like Gardens by the Bay and Park Royal on Pickering37, Singapore has incorporated sustainable practices with ambitious design.
Efforts to raise our design profile continue with areas like Design Orchard, an integrated retail and incubation space that aims to groom new and emerging designers in the lifestyle and fashion sector38, and the launch of the Singapore Good Design (SG Mark) to benchmark good design and quality39.
Testament to our growing profile, Singapore is home to Tupperware Brands' Global Design Centre for Asia40, Asia's first Porsche Design Studio41 and Proctor & Gamble's (P&G) Singapore Innovation Centre — an international innovation hub for P&G's global hair care, skin care, home care, and personal health and grooming products, just to name a few.
These examples help cement Singapore's reputation as a leader in the design sphere, making the country a natural choice for events in architecture, fashion and more.
There is also potential for conferences and exhibitions revolving around design thinking. Interest is rising in this area as the Singapore government leads the way in using design thinking to develop digital parking and programmes for people with disabilities. Businesses have also come on board with Dsg's Business Value of Design programme, an initiative that encourages companies to leverage on design thinking to improve their bottom lines42.