Pushing Forward in Biomedical, Healthcare and MedTech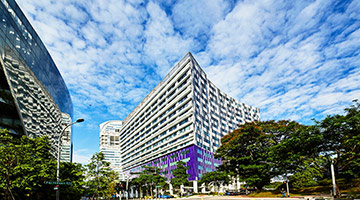 The trajectory of Singapore's applied health sciences industry mirrors much of the world's trends in the Biomedical, Healthcare and MedTech sector today. We are well placed to support the quickly developing and evolving applied health sciences industry, thanks to our world-class manufacturing capabilities, pro-business environment, as well as commitment to innovation and research in the biomedical and health domain.
Why Hold Applied Health Sciences Events in Singapore?
Regional Biomedical Hub
Over the years, Singapore has built up a reputation as a hub for biomedical sciences in Asia. This reputation has invariably attracted many of the largest pharma firms in the world to set up their regional headquarters in Singapore. In spite our relatively small size, eight of the top ten pharmaceutical firms such as Abbott, GlaxoSmithKline, Johnson & Johnson and Pfizer have manufacturing plants located here.
GlaxoSmithKline

GlaxoSmithKline has a total of three manufacturing plants in Singapore producing antibiotics, vaccines and pharmaceutical ingredients for prescription medicines. Their latest Jurong plant, built to a tune of $130 million, is one of the world's most advanced manufacturing facilities. In addition to being fully automated, it is also piloting many new processes that are changing the way medicines are being made.

Abbott

Abbott Singapore is one of the company's most significant global facilities, employing around 900 people who are involved in delivering products and solutions to the Asia Pacific region. In 2010, Abbott set up Singapore's first nutrition R&D site – the Abbott Nutrition Asia-Pacific Research & Development Center. The centre currently houses around 65 scientists and staff, and is the largest such facility outside of the US.
Aside from manufacturing excellence, we are also firmly rooted in our efforts to advance innovation in the health sciences, as evident from the $4 billion that has been pledged towards public sector research funding4. This helps us push for new medical breakthroughs, as well as adds value to pharmaceutical companies who are able to benefit from our extensive and integrated research ecosystem.
Today, many prominent international healthcare and research organisations, such as the American Association for Cancer Research, Duke University, Healthcare Information and Management Systems Society and Joint Commission International (JCI) have an established presence here.
Leading the Way in MedTech
In line with Singapore's goal to become a Smart Nation, Singapore is pushing forward as a regional leader in MedTech research and development. We are currently home to more than 60 multinational MedTech firms, including Becton Dickinson, GE Healthcare and Thermo Fisher Scientific, who are attracted by Singapore's innovative R&D ecosystem and highly-skilled workforce of professionals.
In response to the growing call to be ready for future health crises, as triggered by Covid-19, Thermo Fisher Scientific decided in 2020 to set up a sterile facility for therapeutics and vaccines in Singapore. Featured in the new facility is a high-speed sterile line for live virus filling – the first such large scale capability in Singapore. At full capacity, the facility is able to manufacture up to 30 million doses per month and provide more than 300 jobs.
GE Healthcare

GE Healthcare in Singapore employs more than 300 staff who provide solutions for diagnostic imaging departments, operating theatres and high acuity wards. In 2014, GE Healthcare chose Singapore for their first manufacturing plant in Southeast Asia. Today, the company also uses Singapore as the regional service hub for portable healthcare equipment repairs, and to provide training for users of GE Healthcare's products and equipment.
We also have a thriving startup scene that benefits from a collaborative ecosystem where government and private institutions work together to advance the MedTech industry. Singapore's HealthTech ecosystem is home to over 165 unique investors and accounted for 54% of the HealthTech funding invested in Southeast Asia in 20195. Successful examples of startups that have been able to successfully commercialise critical medical technology and expand globally include firms such as Structo which specialises in dental equipment solutions using 3D printing, and Hello Health Group which provides consumer health information to 35 million users across the region.
Alongside MedTech MNCs and startups, Singapore also attracts companies who are looking for regional market opportunities. Not only are we a gateway into the ASEAN medical market, but we also boast the third largest number of MedTech deals in Asia, which make up 54% of the region's total investment6 in the industry.
Healthcare Advancements
In addition to supporting the needs of our 5.7 million population, Singapore's leading healthcare system also attracts an additional 350,000 overseas patients into the country each year7.
We have come a long way in 50 years, from being plagued by frequent outbreaks of diseases and a relatively high adult mortality rate8 , to having one of the world's most efficient healthcare systems. This achievement can be attributed in part to our innovative and holistic approach towards medicine and healthcare, where patients benefit from accessibility and proximity to the latest medical technologies and drug developments.
Recognising the importance of collaboration in achieving medical breakthroughs, Singapore has invested heavily to build an ecosystem where discoveries in the lab can quickly be translated into viable patient solutions. Examples of this collaborative approach include the creation of the Experimental Drug Development Centre – a national platform for channelling high potential drug candidates towards commercial reality, and the Target Translation Consortium, which coordinates early-stage drug discovery efforts across academia, healthcare institutions and government agencies.
Today, Singapore's demographics reflect much of Asia's and indeed the world's healthcare needs and aspirations. With our ageing population pushing us to look for solutions that lessen the strain on hospitals and allow ageing-in-place, the conversation has invariably shifted towards preventive and rehabilitative healthcare, and its related technologies such as remote medical monitoring devices, assistive devices and virtual healthcare services.
Be it Biomedical, MedTech or Healthcare, Singapore's commitment to health sciences advancement makes us an ideal hub for key opinion leaders, institutes, firms, start-ups and research organisations to forge meaningful partnerships, and to host progressive and thought-leadership events that will shape the future of the health sciences.
Singapore has hosted a number of top biomedical and healthcare conferences and shows, giving it the necessary expertise and experience to support your event.
Medical Fair Asia
One of Asia's most established shows with a history reaching back to 1997. This is the definitive event for medical and healthcare industry professionals including healthcare manufacturers, suppliers, distributors and investors. With attendees hailing from more than 90 countries, the show is a central meeting place for trade professionals to witness cutting-edge innovations and learn about current and future industry trends. The first digital edition in 2020 attracted over 8,500 trade visitors and 345 exhibitors from 38 countries showcasing over 3,000 products.
ISPE Singapore Affiliate Conference & Exhibition
This event organised by International Society for Pharmaceutical Engineering (ISPE) is one of the largest and most respected trade shows in Singapore for pharmaceutical and biomanufacturing professionals. It attracts speakers and attendees hailing from 25 countries from APAC and beyond.
CAREhab
This premier collaborative healthcare platform brings together healthcare institutions, technology enablers, disruptors & innovators, researchers, regulators and academics to facilitate conversations between stakeholders and to co-develop patient-centric solutions.
IDEM Singapore
Asia Pacific's leading dental exhibition and conference. The virtual edition of the event attracted 3,615 attendees from 54 countries, and 304 exhibitors from 36 countries in 2020.
MedTech Forum
APACMed represents manufacturers and suppliers of medical equipment, devices and in-vitro diagnostics, industry associations and other key MedTech industry stakeholders. In 2020, as a result of Covid-19, APACMed held its first-ever virtual forum, which garnered close to 1,500 attendees – the highest number it its history.
World Ageing Festival
Asia Pacific's first industry alliance on the business of ageing. This is the region's most influential platform on the business of ageing, attracting private, government, and community participants from all over the world.