Enter a Vibrant Marketplace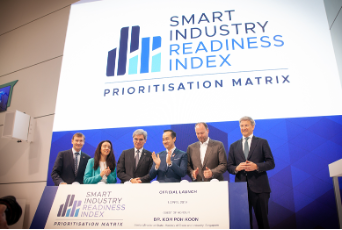 Between 2014 to 2018, a full S$500 million8 was invested to support advanced manufacturing initiatives and the Smart Industry Readiness Index (SIRI) developed to support firms in adopting new technology.
The marketplace has expanded in tandem. Now, Illumina's manufacturing facilities in Singapore produce 95 percent of global demand for microarrays, and 85 percent of global core sequencing consumables9. Dyson has also set up a S$578 million R&D facility in Singapore, aimed at implementing new Advanced Manufacturing tech across its regional facilities10.
Despite Singapore's small size, our semiconductor industry accounts for 20 percent of the world's output11. Industries like medical technology, marine and aerospace, also rely on over 2,700 precision engineering firms from Singapore for products and services12.
This dynamism is only fuelled by an abundance of collaborations between local players and multinational corporations. Examples of this can be found at Jurong Innovation District, an advanced manufacturing hub which brings together a collection of institutes of higher learning, R&D centres, technology providers and factories of the future, or even the Planetspark Innovation Centre at Changi, which caters specifically to nurturing hardware tech startups and SMEs13.
As businesses benefit from being able to tap on the each other's respective expertise for co-innovation, event organisers gain from finding not just an eager audience keen on how advanced tech can drive competitive advantage, but also examples of solutions developed and stories that can inspire others to do the same.
They may even consider bringing these case studies to life with the small engagement tours to different businesses, or leveraging on tech to allow participants to visit a 3D smart factory14. As participants try their hands at some of the latest advanced manufacturing technologies, they walk away with a unique experience, sparking ideas and conversations to take back home.