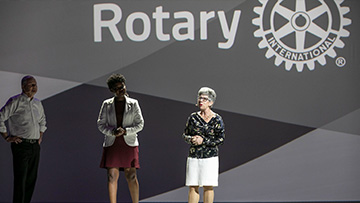 Singapore has won the provisional bid to host the Rotary International Convention in 2024, which is set to be the largest association congress ever hosted by the Republic. More than 25,000 Rotary members from around the world are expected to converge on Singapore to connect, engage and share insights on how to create positive, lasting change in their communities. The annual Rotary convention, held in different cities around the world, was last held in Singapore in 1999 and was attended by approximately 19,000 participants.

The winning provisional bid was led by Rotary regional leader Mr Chew Ghim Bok, and supported by Rotary clubs from Singapore and around the Asia Pacific region. In addition to the STB, various public agencies and business event industry stakeholders also contributed to the successful bid.

Said Mr Chew Ghim Bok: "As dedicated people who share a passion for community service and friendship, the Rotary family in Singapore is excited to welcome and connect with our fellow Rotarians from around the globe. We are also pleased to offer our guests multiple opportunities to discover our City in the Garden, and to experience the best that the region has to offer."

"As a leading global business and knowledge hub, Singapore is an excellent venue for one of our annual conventions," said Rotary International President Ian H.S. Riseley. "Given our international scope and commitment to cultural diversity, our conventions are often described as a 'mini-United Nations' where our global network of volunteers connect to address lasting solutions to local and global humanitarian challenges."

Rotary members throughout the world take action to make communities better. They contribute their time, energy and passion to carry out impactful and sustainable projects in the areas of peace and conflict resolution, disease prevention and treatment, water and sanitation, maternal and child health, basic education and literacy, and economic and community development.

As part of Singapore's bid to host a convention that makes a lasting difference, the Rotary Clubs of Singapore plan to champion a legacy project striving towards sanitation progress and hygiene awareness by 2025.

The Rotary International Convention 2024 will run for five days, and include workshops, forums, breakout sessions, entertainment and other meetings. The Convention will be held at the Singapore EXPO Convention and Exhibition Centre.

"SingEx is honoured to have been awarded the unique opportunity by Rotary International to play host to this prestigious event. This is testament to SingEx's expertise and track record in managing large-scale international conventions. We will definitely make the most of Singapore's service and infrastructure offerings; and collaborate closely with STB and industry partners to deliver a memorable event experience for attendees at the 2024 Rotary International Convention," said Mr Aloysius Arlando, CEO, SingEx Holdings.