Overview
The tourism industry is a key pillar of the Singapore economy. In particular, the Meetings, Incentives, Conferences, and Exhibitions (MICE) sector is a significant contributor. While Covid-19 has impacted Singapore's MICE industry, it has also accelerated innovation and the use of technology. Singapore is reimagining the future of MICE, with rigorous protocols and innovative solutions for the end-to-end visitor journey.

Geo Connect Asia 2021 (GCA 2021), organised by Montgomery Events Asia, was held recently with a specific focus on Southeast Asia.


A hybrid strategic and collaborative business meeting platform for industry professionals, government agencies, and start-ups came together to build and develop knowledge of global solutions for Asia's geospatial and location intelligence.

---
Over 2,200 industry professionals attended physically and virtually, with close to 600 of them attending in-person. Approximately 100 foreign delegates from countries, including Belgium, Germany, Hong Kong, Australia, Indonesia and Malaysia, attended.

Montgomery Asia worked closely with the Singapore Tourism Board (STB) to ensure the safety and well-being of attendees. This included complying with Safe Management Measures (SMMs) such as crowd density control and the use of TraceTogether to facilitate contact tracing for international visitors.

GCA 2021 trialled the 'hybrid event' prototype developed by the Alliance for Action on Enabling Safe and Innovative Visitor Experiences. The prototype provided delegates with the degree of interaction they would be accustomed to in a regular tradeshow setting – but in a far safer way which minimised infection risks. The Geo Suites structures represented the main mode of interaction among visitors. Each Geo Suite featured two meeting pods, allowing visitors to conduct private business meetings safely. The pods are fitted with plexiglass, with microphones on both sides.

Riding on the learnings and insights from the recent TravelRevive, the first large-scale in-person conference and exhibition to return post-pandemic (November 2020), GCA 2021 piloted creative solutions to enhance health and safety for delegates, as well as digital enablers to allow participants a seamless experience in the current Covid-19 environment.

Andrew Phua, executive director of Exhibitions & Conferences at the Singapore Tourism Board, said, "We will continue to support and collaborate with our MICE industry to cement Singapore's position as one of the world's leading destinations for safe, trusted, and innovative MICE events. The event's focus on digital transformation and sustainability in smart cities is in line with the opportunities that Singapore is exploring in the new environment. Geo Connect Asia 2021 is also the first hybrid tradeshow of the year in Singapore, and we look forward to a safe and fulfilling experience for all our visitors and delegates."
---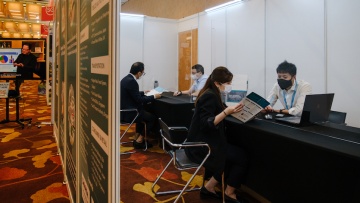 Events like Geo Connect Asia were able to reimagine traditional trade exhibitions by innovating the event format to facilitate safe interactions with digital enablers.
Geo Suites and meeting pods facilitated face to face business engagements and knowledge transfer between exhibitors, speakers and attendees.
Digital enablers, which leverages geospatial technology and temperature tracking technology were deployed to enhance safety of delegates.
Indoor location technology was used to track movements between halls and support compliance with safe management measures.
Meeting Pods, for pre-arranged meetings had plexi glass separating the exhibitor and buyer as well as microphones on both sides for a better auditory experience.
Larger pods (double in size) to cater to four persons, with two representatives from each company to facilitate productive discussions were made available.
---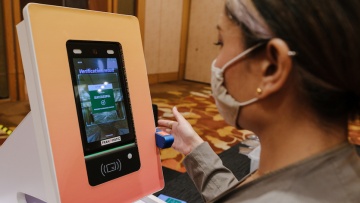 Geo Connect Asia trialled the 'Safe Event Platform' – a technology solution that enables greater ease of monitoring event activities.
The Safe Event platform was borne out of the Singapore Association of Convention Exhibition Organisers' (SACEOS) SafeEvent challenge launch on IMDA's Open Innovation Platform.
The Safe event platform helps MICE players to run the events safely and effectively without relying heavily on the extra human labour.
This platform facilitates the re-opening of MICE events with compliance to the SMMs set by Singapore Tourism Board and provides MICE players to track, monitor, manage and review the event activities without compromising the safety of the anyone.

It comprises of three components:
Safe Event App (for attendees) and,
Safe Event Platform (for event organisers)
Safe Event Platform (for premise owners)
Using Bluetooth technology, the Safe Event platform will be able to receive reports of all attendees through users' devices that serve as a medium to transmit the data to the dashboard where the event organiser has access to functions like, Attendance, Trail Analysis, Contact History, etc
In case an attendee enters an unauthorised zone, alerts will be triggered to both attendee and event organisers.
Attendees that have come into close contact with one another will also be recorded.
---
Safe Business Event Framework
Singapore Tourism Board developed a risk management framework for business events based on rigorous safe management measures. Over 50 MICE events have trialled under the Safe Business Events Framework to date in Singapore and involved over 6,000 local and foreign attendees. There has so far been no incidence of Covid-19 infections recorded stemming from these events.

The framework was part of STB's preparation for a calibrated and safe resumption of B2B events and was created in consultation with the industry and is aligned with international best practices. It arises from reflections and lessons learnt in the first half of 2020, when businesses in Singapore's MICE sector conceptualised and reimagined what a safe event could look like.

Under STB's Safe Business Events Framework, event organisers (EOs) must achieve five key outcomes:

Infection control measures for every stage of an event attendee's journey (pre- to post-event)
Limits on crowd density
Limits on close contacts between individuals
Ensuring a safe and clean environment
Preparing for emergencies relating to COVID-19

For events in Singapore, health and safety remain a top priority. Rigorous standards of safe management and hygiene are adhered to. This includes the management of crowd density and group size throughout the event, innovative ways of ensuring adherence to safe distancing, as well as pre-event Antigen Rapid Tests for attendees. With these measures in place, attendees can enjoy peace of mind at the event.
---
This article was originally published in Exhibition World.