SAFE MANAGEMENT MEASURES FOR EXPANSION OF MICE [1] EVENT PILOTS IN SINGAPORE
1. Starting from 1 October 2020, STB will start accepting applications for Event Organisers and Event Venues (collectively "EOs")[2] to pilot MICE events of up to 5 zones of 50 attendees (250 pax) with attendees to be divided into cohorts of 20.
2. STB will not accept applications for work-related events which are targeted at internal audiences including employees, or which are predominantly social in nature.
SUBMISSION OF APPLICATION FOR PILOTING OF MICE EVENTS
3. Under the Safe Business Events (SBE) framework, EOs must implement Safe Management Measures (SMMs) which will meet the 5 outcomes required for the piloting of MICE events in a safe and controlled manner. The SMMs must span an attendee's entire journey, before, during and after the event.
4. To hold a MICE event, an EO must submit an application and event proposal for STB's assessment. If STB is satisfied with the proposal, the Ministry of Trade and Industry ("MTI") will give the EO approval to carry out the event.
5. Each MICE event and its related marketing efforts may be carried out only after receiving approval from STB and MTI. EOs must submit their application and event proposal at least 1 month prior to each MICE event. STB and MTI will take up to 14 business days to assess each application. STB will start accepting applications from 1 October 2020.
6. Please refer to Annex A which sets out the 5 outcomes to be achieved by EOs under the SBE framework. A checklist and illustration of SMMs are included under Annex B and Annex C respectively to assist EOs in planning the SMMs to meet these 5 outcomes.
ENFORCEMENT OF MEASURES
7. STB will conduct enforcement checks to ensure compliance with SMMs. Enforcement action will be taken against EOs who hold MICE events without approval and/or who fail to comply with the necessary SMMs.
8. Under the COVID-19 (Temporary Measures) Act passed in Parliament on 7 April 2020, first-time offenders will face a fine of up to S$10,000, imprisonment of up to six months, or both. Repeat offenders may face a fine of up to S$20,000, imprisonment of up to twelve months, or both. Further, other levers under the Act, such as ordering closure of the business premises and/or cessation of business activities, may be used against EOs that are found to be non-compliant.
9. Businesses that do not comply may also be ineligible for government grants, loans, tax rebates and other assistance.
10. For any enquiries, please contact secb@stb.gov.sg.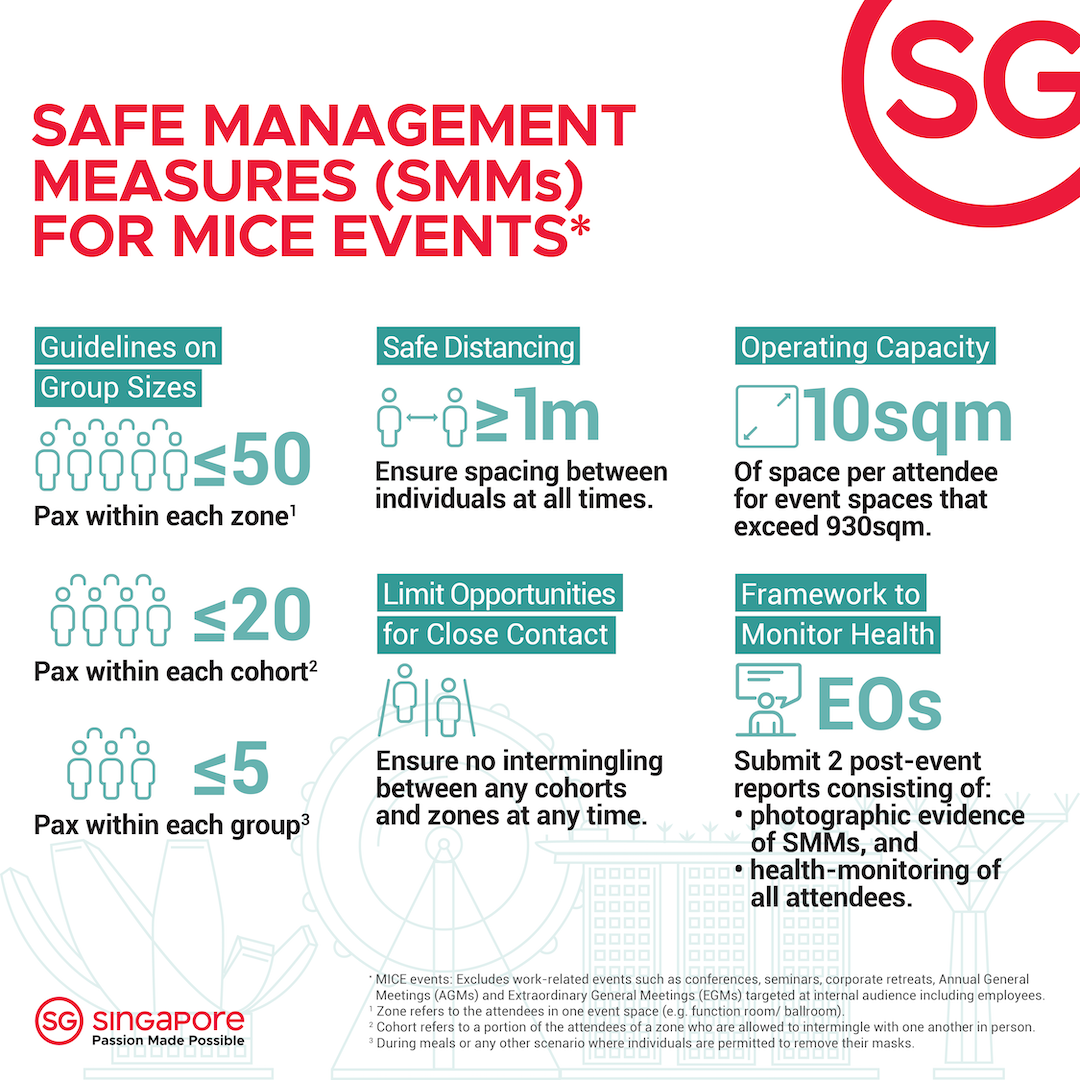 [1] MICE events: Exclude work-related events targeted at an internal audience (including employees), such as internal conferences and seminars, corporate retreats, Annual General Meetings (AGMs) and Extraordinary General Meetings (EGMs).
[2] Event Organisers refer to any person (including business entities) that provides, in the course of business, the organising of events (i.e. Event Organisers) or the provision of rooms or space at a function centre or the supply of facilities for the operation or conduct of events (e.g. Event Venues) (collectively "EOs").
SINGAPORE TOURISM BOARD
Updated as of 10 September 2020