Overview
We take a look at some of the best spots in Singapore to enjoy a hike, get in touch with nature and escape the stresses of the workplace.
Singapore is well-known for its thriving economy and bustling city life, but did you know that it also offers some amazing hiking trails for those needing a break from the concrete jungle? Hiking can be a great way for busy executives to de-stress and enjoy a touch of nature. If you are in the midst of planning the next team activity, here are some of Singapore's best hiking spots to consider.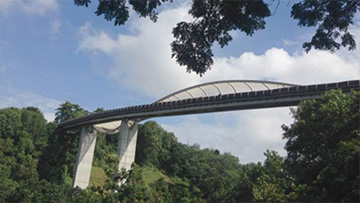 Southern Ridges
This three- to four-hour hike takes you through a 10-kilometre stretch of green open spaces and trails that connect some of Singapore's favourite parks and gardens, including Mount Faber Park, Telok Blangah Hill, HortPark, Kent Ridge Park and Labrador Nature Reserve.
Highlights from the trail include Henderson Waves, the highest pedestrian bridge in Singapore, which stands out for its distinctive wave-like structure. Another impressive section of the trail is the Forest Walk, an elevated walkway which brings hikers as high as 18 metres above ground, and offers breathtaking canopy views of Telok Blangah Hill's secondary forest.

Location: Southern Singapore - Mount Faber Park, Telok Blangah Hill Park, HortPark, Kent Ridge Park and Labrador Nature Reserve
More information: https://www.nparks.gov.sg/gardens-parks-and-nature/parks-and-nature-reserves/the-southern-ridges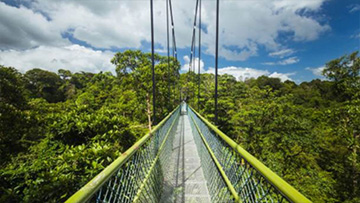 TreeTop Walk @ MacRitchie Reservoir
Get a bird's-eye view of Singapore's unique Central Catchment Nature Reserve from this free-standing suspension bridge that is nestled in the middle of the rainforest. The first of its kind in the region, the bridge connects the two highest points (Bukit Peirce and Bukit Kalang) in the area. An hour's walk from the iconic MacRitchie Reservoir, the TreeTop Walk's highest point is 25 metres above the forest floor, or about seven storeys high!
The hiking route to the TreeTop Walk brings you through the rainforest, where you may encounter native wildlife, including squirrels, birds, monkeys and lizards. Also, keep a lookout for the wild Singapore durians that grow in the area.
Location: The Treetop Walk is a 1.5-hour to 2-hour walk (4.5km) from the MacRitchie Reservoir Park, or a 45-minute to 1-hour walk (2.5km) from the Venus Drive car park.
More information: https://www.nparks.gov.sg/gardens-parks-and-nature/parks-and-nature-reserves/central-catchment-nature-reserve/treetop-walk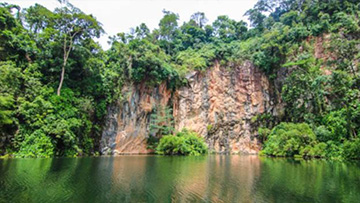 Bukit Batok Nature Park
Developed on an old quarry site, the park surrounds a tranquil lake that is set amidst majestic granite cliffs. The beautifully landscaped park is also home to a variety of native wildlife.
Enjoy a leisurely stroll on the meandering footpaths that will bring you through lush forested areas, or climb up to the 10-storey high look-out points for picturesque views of the former quarry.
History buffs will appreciate the memorial plaque in the park that pays tribute to the soldiers and victims of World War II. After the surrender by the British, the Japanese built a shrine at the top of Bukit Batok hill to honour soldiers who had fallen in the war.
Location: Along Bukit Batok East Avenue 2 and Bukit Batok East Avenue 6
More information: https://www.nparks.gov.sg/gardens-parks-and-nature/parks-and-nature-reserves/bukit-batok-nature-park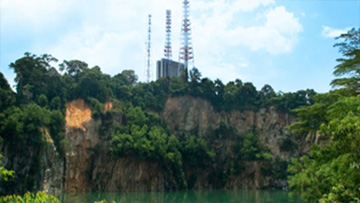 Bukit Timah Nature Reserve
One of the first reserves to be established in Singapore, Bukit Timah Nature Reserve remains a firm favourite among nature enthusiasts. This ASEAN Heritage Park is one of the largest patches of rainforest in Singapore and is teeming with biodiversity. It is home to over 840 species of flowering plants, over 500 species of fauna, as well as a large variety of tropical animals, birds and insects.
Spanning over 163 hectares, the nature reserve includes Bukit Timah Hill, Singapore's highest hill which stands at 163 metres high. There are various trails that you can take to the summit, either on foot or on a bike. The trails were revamped in 2016 with new steps, boardwalks and rope railings to enhance the experience of visitors to this tropical treasure trove.
Location: End of Hindhede Drive
More information: https://www.nparks.gov.sg/gardens-parks-and-nature/parks-and-nature-reserves/bukit-timah-nature-reserve