Overview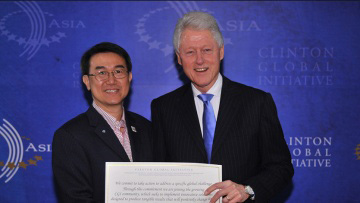 "Live a useful life" is the personal motto businessman Jack Sim adopted in his 40s. As his focus shifted from wealth accumulation to helping the poor, Jack was moved to set up the World Toilet Organization (WTO) to drive global progress by providing people with the most basic of rights: proper toilets and sanitation. Jack shares the story behind this Movement, which has earned recognition from luminaries, such as Bill Clinton, Sir Richard Branson, Matt Damn and ColdPlay.
The WTO is successfully transforming lives around the world. What motivations were behind starting this Movement?
Let me share some staggering World Health Organization statistics: More than 2 billion people – about 30% of the world's population – do not have proper sanitation. Nearly 1 billion still defecate in the open. Countless young women forgo education and live with gender inequality and sexual harassment because of the lack of safe, hygienic toilets. Some 1,000 children die daily from preventable diarrhoeal diseases. Social problems and economic losses of US$260 billion annually are caused by poor sanitation.
Growing up in Singapore, I witnessed first-hand a city's transformation from Third World to First World over a few decades. The progressive Singapore River clean-up, the eradication of harmful practices such as littering and corruption, and the building of proper housing, health, water, toilet and sanitation systems, were the fundamental building blocks for Singapore's progress. Looking around, I was struck by how a city's toilet culture and sanitation conditions often provided a clear measure of people's quality of life. These observations shaped my belief that proper sanitation was a cause worth propagating.
This moved me to set up the Restroom Association of Singapore (RAS), and then the WTO – the first "made in Singapore" global non-governmental organization (NGO). From this international platform, I started to advocate for sustainable sanitation solutions and policies as a means to deliver health, dignity and well-being to everyone, everywhere.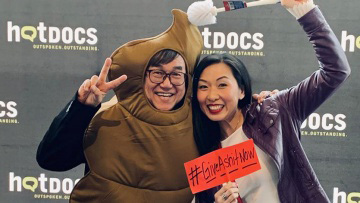 What milestones, challenges and successes did you encounter on WTO's development journey?
Looking back, the biggest challenge I faced with both RAS and WTO was finding mainstream media platforms that were prepared to discuss toilet matters. To many, these were private, embarrassing and even 'taboo' subjects. But problems cannot be solved when people won't talk about them. I realised then the importance of engaging with media. We persisted and eventually broke the silence about the sanitation crisis.
As a result, we also raised WTO's profile, reputation and credibility. Most crucially, we cultivated awareness and won trust and support from our members. To this end, running our global HQ operations out of Singapore gave a boost to WTO's early brand-building efforts. Singapore's clear legal, financial and governance frameworks and world-class business, communications and transport infrastructure helped instil confidence and secure support amongst our partners.
In 2013, with the Singapore Government's support, the WTO successfully delivered Singapore's first United Nations (UN) resolution, "Sanitation for All". All 193 nations of the UN General Assembly unanimously and officially declared 19 November as World Toilet Day, which further galvanised collective action to address the global sanitation issues.
WTO's integrated approach - 'Advocate, Educate, Build and Empower' – is driving sustained momentum globally. We run flagship social enterprise programmes, including the World Toilet College and SaniShop. which empowers local entrepreneurs to improve sanitation conditions. The annual World Toilet Summit has been held 19 times in 16 cities.
Our member growth from 15 initially to 151 member organizations across 53 countries today reflects this global support. Our members included toilet associations, academic institutions, foundations, UN agencies, NGOs and corporate stakeholders.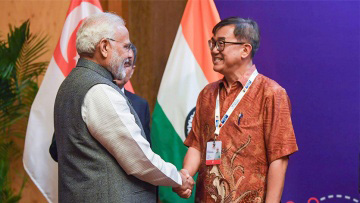 How does WTO operate around the world? Share with us some highlights of successful WTO initiatives.
As WTO's mission extends from advocating for clean toilets to hygiene and integrated water management, sewerage and wastewater treatment, we collaborate with partners in joint projects that include research, policy-making, long-term capability-building, implementations, and so on.
In-country highlights include President Xi Jinping's China "Toilet Revolution". In 2004, leading up to Olympics 2008, we helped the Chinese government apply global standards to renovations across 4000 public toilets. WTO's Rainbow School Toilets initiative is currently underway to modernise toilets in more than 214,000 schools.
In 2007, we hosted the World Toilet Summit in India with President Abdul Kalam and Prince of Orange Willem-Alexandra, which created massive media coverage and awareness about toilet-building. Eventually, Prime Minister Narendra Modi constructed 110 million new toilets – the biggest toilet-building project in history. Our two World Toilet Colleges in India trained more than 8000 people over the last three years to add jobs and build a sustainable local sanitation culture.
Most recently, WTO worked with the Brazilian government to introduce new laws allowing private entities to invest in sewerage water treatment and support local sanitation improvement plans. These received overwhelming support and approval from the Brazilian Senate.
As a global organization, WTO takes responsibility for improving toilet standards. In 2005, we successfully lobbied to change the Singapore National Environmental Agency's Code of Practice to provide more space in female toilets for cubicles, which helped reduce queuing times.
Our priority currently with the Covid-19 pandemic is on working with various universities and foundations to define hygiene standards and develop critical first-line-of-defence sanitation recommendations, such as implementing touch-free and sensor toilets. To be completed within a year, this World Toilet Standards and Design Guidelines will be referenced globally by policy makers, city planners, architects, amongst others.
You've recently launched BoP Hub - why is this an important initiative?
Base of the Pyramid (BoP) refers to the four billion people who live in relative poverty. Earning less than US$3,000 annually, they are overlooked by companies targeting richer customers. Yet, research shows significant 'blue ocean' opportunities exist in the $15 trillion global BoP marketplace!
How does this tie in with WTO? Studies highlight clear interlinks between productivity, income, health, nutrition, water and sanitation. Hence, if we want to improve lives and end poverty in the BoP, we need to look beyond sanitation and bridge the silos.
I envisioned BoP Hub as a collaborative marketplace for connecting key stakeholders, such as social entrepreneurs, corporates, manufacturers, development agencies, governments, NGOs and investors. Working together, we can aggregate and bundle products with distribution, logistics, design, technology and public policy, to serve BoP consumers.
To turn this BoP Hub vision into reality, we have invested S$10 million in the SDG Center. This 65,000 square-foot building offers state-of-the-art business facilities at affordable rents to international social businesses who share our vision. The SDG Center will support organizations and individuals with business development and networking opportunities for helping others rise above their circumstances.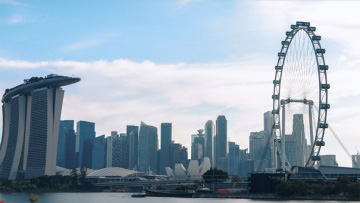 What role can Singapore play to support your growth ambitions for WTO and BoP Hub?
The growth and success of WTO and BoP Hub lie in our ability to connect and work synergistically with a diverse stakeholder base, which includes private and public sector organizations, governments, NGOs, financial institutions, philanthropists, investors, World Bank, UN organizations, development agencies, research, academia, and the like.
Singapore offers many distinct advantages as a leading global business hub: easy international access with extensive flight connectivity, world-class communications and business-friendly meeting and conference facilities. Equally importantly is Singapore's global reputation for having a pro-business culture, marked by clear legal, financial and governance frameworks, an educated workforce and positive diplomatic relations with other countries. Singapore's ability to maintain its position as a trusted world-class business hub will be key to supporting our mission.
Much remains to be accomplished working with our partners to achieve the UN's Sustainable Development Goal of safe sanitation for all by 2030. Furthermore, our joint efforts to build a sustainable blue ocean marketplace will improve the lives of the four billion poor by providing jobs and start-up business opportunities, so they no longer rely solely on charity for their livelihoods.
***
Mr Jack Sim is Founder of World Toilet Organization (WTO) and Base of the Pyramid Hub (BOP HUB).

Are you an international organisation looking to expand your reach into Asia and globally?
Contact the Singapore Tourism Board, a member of the Global Association Hubs Partnership (GAHP) today! We'd love to hear from you!