Overview
While you are in Singapore to attend a business event, it is important to stay safe, take the necessary health precautions and look out for one another.
Meanwhile, Singapore and our tourism businesses are prepared with added measures in place, with Singaporeans and visitors' health and safety as our top priority.
Here are 5 simple tips to travel responsibly while in Singapore.
1) Practice good personal hygiene
We know you can't wait to sample our scrumptious local delicacies, but remember to wash your hands with soap before and after every meal.
Practising good personal hygiene protects you and creates a clean environment for everyone.
You should also wash your hands frequently after visiting washrooms and/or when your hands are dirtied after coughing or sneezing.
2) Plan your itinerary and pack ahead
Planning beforehand is always helpful. To ensure that your plans are not disrupted, do check online for details pertaining to your event or sites that you may be visiting. You may visit your event website or event social media page to get the latest update on the event schedule and to learn more about the additional precautions that are in place.
Please pack sufficiently for your trip and have on-hand necessities and personal items such as masks, thermometers, water bottles, antibacterial wipes and hand sanitisers.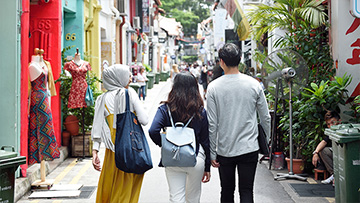 3) Look out for your travel companions or colleagues
Should you or any of your travel companions or colleagues feel unwell, please consult your hotel concierge or event staff for the nearest medical practitioners and seek medical attention immediately.
Wear a mask if you feel unwell or when you display respiratory symptoms such as a cough or runny nose.
More importantly, remember to look out for one another and be mindful of your own health at all times.
4) Stay informed on the latest developments
Even as you are out and about, you should keep yourself updated for information from official sources.
5) Take it slow
The best tip is perhaps now is a good time to remind yourself to slow down and smell the roses.
During your spare time after your event, take your time to explore our museums and galleries and keep calm in the company of art and history. Go on a leisurely walk in the outdoors such as Coney Island or the Southern Ridges, for some much-needed Vitamin E.
Remind yourself to stay safe, appreciate the moments, and travel responsibly.
We and the Singapore tourism industry are united in our efforts to deliver a conducive and pleasant travel experience for everyone, and looking forward to have you here in Singapore.