Overview

There's nothing like a warm hearty meal after a day of meetings to wind down and get to know fellow delegates on a deeper level. And when it comes to local dishes, these chefs have turned the gastronomic flavours of Singapore into fine artistry.
Also known as mod-sin (short for modern Singaporean food), this innovative culinary genre – often a blend of old-school and modern tastes and techniques – will leave your group with an experience to remember.
Ladyrinth
After chef-owner Han Liguang earned a Michelin star for this fine-dining establishment (the first mod-sin restaurant to achieve this), he went on a most ambitious endeavour to source 90 per cent of his ingredients locally.
In land-scarce Singapore where farming is a rare economic activity, Chef Han has managed to create magic with what he can find. What has resulted is an interesting menu that includes gems like Pulau Ubin Oyster (a takoyaki with sambal and egg floss), heartland waffle (local chicken live pate and jam), local wild-caught crab and rojak featuring local plants and jackfruit sorbet. Truly unique to Singapore, a chef tasting menu is available for groups of eight or more.
Operating Hours : Tuesday to Friday, 12noon to 2.30pm, and Tuesday to Sunday, 6.30pm to 11pm
Seating capacity : 55. A private dining room can be arranged for 10 to 20 people.
Where : Esplanade Mall, 8 Raffles Avenue #02-23
Website : https://labyrinth.com.sg/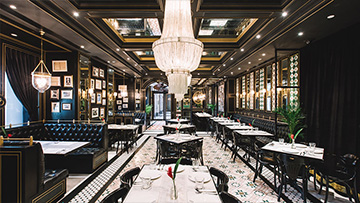 National Kitchen by Violet Oon
Restaurateur and chef Violet Oon is no stranger to Singaporeans. Her name is synonymous with fine Peranakan food, a delightful Straits Chinese cuisine, and her restaurant at the National Gallery has won critical praise with excellent Singaporean and Nyonya dishes like the buah keluak ayam (a spicy and tangy chicken stew with the buah keluak nut), chicken and prawn bostador (a Eurasian dish of minced chicken and prawns with chilli) and the aromatic fish head curry. Located amongst art and sculptures at the National Gallery in the heart of the city, the restaurant's setting is luxurious with a handsome gold and black palette – fit for even your most important guests.
Operating Hours : Daily, 12noon to 2,30pm, 3pm to 5pm, 6pm to 10.30pm
Seating capacity : 70. A private dining room seats 12.
Where : 1 St. Andrew's Road, #02-01 National Gallery Singapore (City Hall Wing)
Website : https://violetoon.com/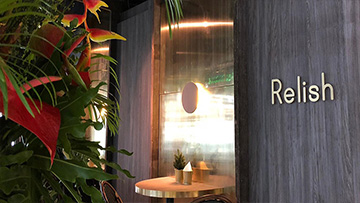 Roketto Izakaya
Helmed by Chef Wilin Low who is considered to be the godfather of mod-sin cuisine, Roketto Izakaya presents a menu that is as eclectic as it is delicious and playful. With laidback (but not sloppy) vibes, dishes are designed for sharing and pairing with the restaurant's side selection of sake. Guests can kick back with local favourites such as the deep fried har cheong (shrimp paste) frog legs, curry chicken shepherd's pie, aburaage rojak salad (made with tiger prawns, the Japanese fried tofu pouch, pineapples and prawn paste ice-cream, har cheong pork belly and many more.
Credit: Relish
Operating Hours : Tuesday to Saturday, 6pm to 11pm.
(The restaurant opens for lunch under the name of Relish.)
Seating capacity : 50
Where : Frasers Tower, 182 Cecil Street, #02-12/13
Website : http://www.wildrocket.com.sg/relish.html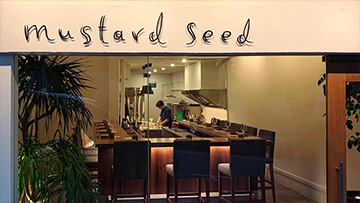 Mustard Seed
Foodies were crushed when chef Gan Ming Kiat, alum of the one Michelin star Candlenut restaurant, closed down his private dining kitchen. Now he's back cooking at a brand new restaurant, serving up an omakase-style menu that he's best known for. Here, Peranakan and Singapore flavours are blended with Japanese influence, such as a chawanmushi steamed in a stock of dried seafood and Jinhua ham, hot pot with herbal duck and Japanese mushrooms and even cold-pressed starfruit sorbet with pomelo and Japanese muscat grapes. The menu changes monthly. The waiting list is long, so be sure to make your reservation months in advance.
Credit: Mustard Seed
Operating Hours : Tuesday to Saturday, 7pm to 11pm
Seating capacity : 13
Where : 75 Brighton Crescent
Website : https://www.mustardseed.sg