Overview
Fuelled by a rising middle class and rapid urbanisation, the world's economic centre of gravity is shifting towards Asia. At its heart is Singapore, which has been re-inventing its economy for the technology age to meet the growing demand for high-quality products and services.
Manufacturing is a key pillar to Singapore's economy. accounting for about a fifth of Singapore's gross domestic product and more than 400,000 jobs1. The Singapore government is committed to ensuring the sector is well-positioned for the new economy, encouraging the industry to upgrade their capabilities to adopt new and disruptive technologies such as artificial intelligence and robotics through incentive schemes and grants.
Moreover, the Agency for Science, Technology and Research (A*Star) – Singapore's lead government agency that spearheads scientific research and innovative technology – has in recent years established several premises to promote advanced manufacturing technology adoption and testing, and hopefully spark new ideas from Singapore.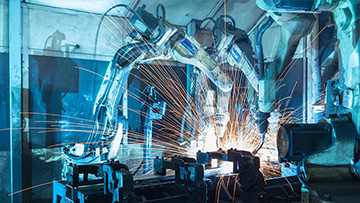 Singapore Institute of Manufacturing Technology (SIMTech)
A*Star's research institute SIMTech supports companies starting to adopt advanced manufacturing technologies in the aerospace, electronics, and semiconductor sectors, amongst others.
It is home to a 6,500 sq ft model factory that allows small- and medium-sized enterprises (SMEs) to experience digitalisation technologies first-hand in a learning environment, without disrupting their business operations. This frees participating SMEs to experiment and try out new ideas that could increase the competitiveness of their businesses.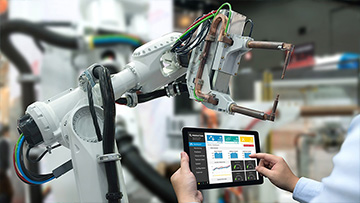 Advanced Remanufacturing and Technology Centre (ARTC)
Launched in 2015, ARTC is Asia's first centre for test-bedding and developing manufacturing technologies. ARTC is a public-private collaboration between A*Star, Nanyang Technological University and industry partners seeking to bridge technological gaps in the adoption of advanced remanufacturing processes.
Companies that have already adopted some advanced manufacturing technologies can look to Model Factory @ ARTC to develop new ways of improving their factories.
For example, autonomous guided vehicles can eventually replace traditional conveyor belts, while sensors can be added to machines to track their activity, with data monitored centrally ing from a control room. The 15,000 sq ft facility provides companies with an insight into these technologies that could lead to them co-developing their own equipment.
The Place to Be
Drawn by Singapore's unique location offering easy accessibility to regional and international markets, as well as a pro-business environment and highly skilled workforce, many leading firms across industry sectors have chosen Singapore as a strategic manufacturing hub.
The city-state's vision to create a world-class manufacturing ecosystem means it will continue to work on attracting companies to locate not just their production facilities, but also their regional or global headquarters, R&D and supply chain functions here. The critical mass of leading players here also attracts top quality business events and conferences in fields such as augmented reality, automation, big data and industrial robotics, making it a platform for boundary-pushing conversations and leading-edge collaborations to happen.
Backed by a commitment to develop the advanced manufacturing sector and propel talent development, Singapore is poised to remain as the place where innovation and thought leadership thrive.
1https://www.edb.gov.sg/en/news-and-events/insights/manufacturing/singapores-advanced-manufacturing-avatar--industry-4-0.html