Overview
Looking to jazz up your team building activities? There's nothing like a good workout (and some friendly competition) to give everyone a feel-good rush. Singapore is a great locale for some fun in the sun because of our year-round summer weather and the variety of activities available. Plus, most places can tailor programmes suited to a large group. Here are four options to check out.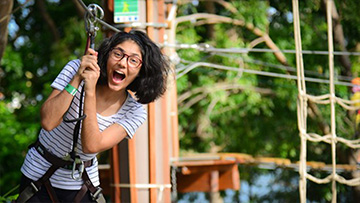 Treetop Obstacle Course
You can literally take your team to new heights here in the eastern part of Singapore. The idea is to make it from one suspended platform to another until you reach the end of the course – there are 44 in all and the highest one is a lofty 9.6 metres above ground (gulp).
Cheer your teammates on as you tackle these obstacles, "fly" through the forest on an 8m-high 'free fall" Tarzan swing and feel the adrenaline of zip-lining 300m across the scenic Bedok Reservoir.
Don't let the fear of heights keep you from this activity. With safety harnesses and a thorough briefing at the start, you can be assured of a safe and thrilling time.
Where: Forest Adventure Singapore, Bedok Reservoir
For more information: Visit forestadventure.com.sg or call 8100 7421
Sailing
One of the best perks of visiting our island state is that you can easily and conveniently take your teambuilding event offshore and enjoy a round of water sports. It's a great way to get away from the office, get in some vitamin D from the sun and let the calming sea breeze reboot your mind.
A half-day programme typically lets you and your colleagues pick up the basics of sailing. After learning the ropes, you will then spend the remaining hours sailing or racing along the coast of Sentosa.
Alternatively, you can choose an eight-hour programme that provides additional land-based activities at nearby islands. A great option is to head to the quiet and beautiful Lazarus Island and enjoy a sandwich lunch on the chartered yacht or on the beach. Better yet, bring along a few bottles of bubbly and pop them to reward the team for their hard work.
Where: Marina at Keppel Bay, 2 Keppel Bay Vista
For more information: Visit https://marinakeppelbay.com/ or call 6303 8448
Paintball
When work stress gets a little too much to handle, head out to release some tension in a healthy and fun way with a round of paintball. The sport involves challenges such as the elimination of opposing team members or the completion of a mission as a team (eg capturing a flag), among several possible scenarios.
Get ready to work up a sweat in a large arena where participants will need to run, strategise and play cohesively in order to win. The sport is suitable for people of all ages and fitness levels.
You will be taught how to handle the equipment safely before commencing play. There are a variety of packages to choose from – the corporate package includes meals, drinks, medals and transportation.
Where: Red Dynasty Paintball Park, various locations
For more information: Visit weplaypaintball.com or email info@weplaypaintball.com
Archery Tag
Similar to paintball, archery tag will have you attacking the opposing team with specially designed bows and arrows. Each team starts at opposite ends of the pitch, and at the sound of the whistle, teams will run to the centre of the pitch to pick up their arrows. Everyone will then need to dash to the "safe-to-fire" zone, which is when the fun starts. You score points as you take out members of the opposing team and hit specific targets on the field.
A simple introduction to archery tag will be given before starting the game so everyone will be clear on the rules. Then it's game on!.
Where: Archery Attack, The Cage Kallang, 38 Jalan Benaan Kapal
For more information: Visit archeryattack.sg or email hello@cohesion.sg