Overview
Food plays an important role in any event - more than just providing sustenance, it can help to bring people together, give a taste of the culture and heritage of a place and serve as a great conversation starter. However, planning the menu for events can be tricky. Cultural and dietary considerations and latest nutritional trends are all factors to bear in mind when creating a menu for your event attendees.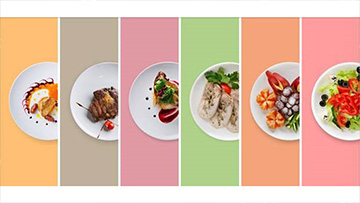 Cater for dietary restrictions
The first step to getting your event menu right is understanding who your attendees are. There are many diverse cultures and religions in Asia alone, some of which require dietary practices to be observed. This may include following a vegetarian diet or consuming only Halal food. Given that Singapore is multi-cultural, many caterers and event venues here are able to work with you to create a menu that caters to a range of dietary restrictions, so do let them know your requirements upfront.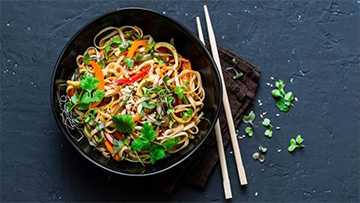 Make healthier choices
Health conscious attendees will appreciate having healthier food options made available to them. Healthy food options do not have to be boring or require extensive preparations. It can mean making some slight adjustments such as providing more steamed, stir-fried or grilled dishes rather than deep-fried foods, offering wholegrain options, or providing refreshments with less or no added sugar. A great way to get started is by looking into healthier catering menus that have been endorsed under Singapore's Health Promotion Board's Healthier Dining Programme.
From farm to table
Check with your caterer if they can source for local ingredients; your event attendees will enjoy knowing that their meal is farm-fresh and environmentally-friendly. Ingredients sourced from local farms are fresh and have a lower carbon footprint as they do not have to travel across borders to reach our tables. Singapore has seen a growing trend of urban farming and sustainable agriculture - hotels such as Fairmont Singapore and Parkroyal on Pickering maintain edible gardens on their premises where they grow herbs and vegetables, and new generation urban farms such as Citizen Farm and Comcrop grow safe, sustainable produce which they supply to restaurants and supermarkets.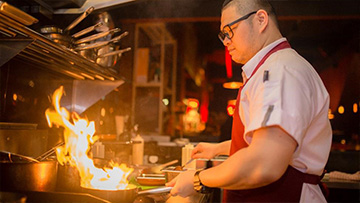 Unique live stations
Live food stations are popular additions to events, with dedicated chefs onsite to prepare food at the request of event attendees. Live stations can range from noodle stalls and meat carving stations, to desserts and local favourites such as ice kachang (flavoured shaved ice with toppings, which is best prepared on site). Aside from the novelty of watching their food being prepared, your attendees can enjoy their food fresh and customised to their liking. Make a big impression at your next event by catering for a live station in your meal set-up.