Overview
From air taxis to drone technology, Singapore is the ideal place to test bed innovative air transport and urban mobility solutions.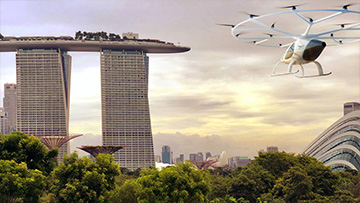 Exciting advancements are being made in air transport and urban mobility, with air taxis and drones rapidly becoming part of today's reality. Singapore serves as an ideal testing ground for many of these technologies. A thriving aerospace industry, deep focus on innovation and strong government support had led many companies to conduct development efforts and trials here. We explore a few recent initiatives that are taking place in Singapore.
Credits: © 2019 Volocopter GmbH All Rights Reserved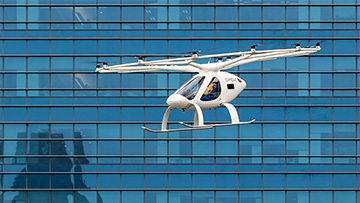 'Flying taxi' trials
The Volocopter is an electrically-powered aircraft that has been designed specifically for urban operations and is capable of flying two people for distances of up to 30km. It takes off and lands vertically like a helicopter. However, unlike the helicopter, it is based on drone technology and can be flown with varying degrees of autonomy – from fully autonomous with a pilot on-board to remote controlled from the ground.
The German-based company behind the aircraft, Volocopter GmbH, has recently embarked on trial flights with the Civil Aviation Authority of Singapore (CAAS) to determine if the aircraft can operate in Singapore's urban environment. This includes mapping out feasible routes and landing pads. A successful implementation has the potential to transform mobility and logistics in Singapore. Apart from passenger rides, the aircraft also has industrial applications such as guiding sea vessels or supporting construction operations.
With the assistance of the Economic Development Board (EDB), Volocopter GmbH plans to establish a product design and engineering team in Singapore to support its expansion plans and to work closely with real-estate developers, mobility provides and other local businesses to develop the local air taxi sector. Singapore's dynamic aerospace industry and available expertise also makes it a logical place to expand into.
Credits: © 2019 Al Jazeera Media Network
Indoor testbeds for unmanned aircraft systems
Seletar Aerospace Park is a leading regional hub for aerospace activities. The park is home to over 60 global and local aerospace industry players including the industry's biggest names, such as Rolls-Royce and Airbus, as well as home-grown companies, such as ST Aerospace and JEP Precision Engineering.
JTC and the Association of Aerospace Industries Singapore (AAIS) are launching a joint initiative to provide indoor testbeds within Seletar Aerospace Park for commercial applications of unmanned aircraft systems (UAS). These indoor spaces will provide a safe and controlled environment for companies to conduct development trials and customer demonstrations.
There are various potential applications for UAS technology, in industries such as security, agriculture, mining and construction, just to name a few. The provision of indoor testbeds are part of a concerted effort by the AAIS to facilitate innovation and drive the eventual commercialisation of promising UAS technologies.
Credits: © 2019 JTC Corporation
Surbana Jurong and AeroLion Technologies to jointly develop drone solutions
Food waste accounts for about 10 per cent of the total waste generated in Singapore, and the amount is expected to increase with growing population numbers and economic activity. Apart from reducing food wastage at the source and redistributing unsold or excess food, there have been much-needed innovations in sustainable waste management.
Surbana Jurong, one of the largest urban and infrastructure consulting firms in Asia, and AeroLion Techologies, a leading provider of industrial Unmanned Aerial Vehicle (UAV) services, will jointly develop UAV solutions for urban and natural environments.
Surbana Jurong aims to integrate the UAV technologies into its processes to raise productivity and offer advance data-driven UAV solutions to its global clients. Potential applications for the UAV technologies can include land reclamation, workplace safety, site progression and fault detection in enclosed areas such as buildings and tunnels.
The consultancy firm already uses UAVs to conduct inspections and surveillance, high-precision data collection as well as security-led activities. The collaboration with AeroLion Technologies will further its capabilities in the area of UAV applications.
Credits: © 2019 Singapore Press Holdings Ltd. Co.