Overview
Jared Norfor, 39, Assistant Director, Operations,
SingEx Venues Pte Ltd.
Don't let his affable demeanour fool you. Jared Norfor is highly meticulous, perhaps even to the point of being obsessive, because his job demands it.
"I always say that I am my harshest client," he says with a hearty laugh.
Two years ago, Jared had to oversee an international corporate meeting for 24,000 people. Held at the Singapore EXPO (the country's largest purpose-built MICE facility in Singapore, with 123,000 square metres spread across 10 halls and 32 meeting rooms), the amount of detail that went into the planning of the event was monumental, to say the least.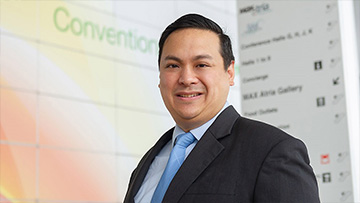 For instance, how will the large group move from one hall to another, stand in line at the buffet, select what they want to eat and finish their meal, all within two hours? There is also the vehicular traffic flow to consider, particularly at bus bays before and at the end of the day's session.
"Contingency planning is part of what I do every day. But I am a task-oriented person who loves making checklists and solving problems, and that keeps me going. Plus, I work with a competent team whom I can always call upon for support.
"In this industry, it's all about thinking on your feet and working closely with everyone to ensure a smooth event – whether it is frontline staff, vendors, clients or government agencies," he explains.
In his current capacity, Jared wears multiple hats. Aside from ensuring the smooth set-up of events at Singapore EXPO and MAX Atria, he is also involved in tackling issues related to fire security and corporate social responsibility. This includes making sure Singapore EXPO and MAX Atria complies with local regulations, and remains accessible and inclusive.
The father of three confesses that between work and family, he has very little time to pursue other interests. He shares, "Sometimes, I can be working for days on end, heading home only to catch a quick shower and some shut-eye."
Not that Jared is complaining. As the saying goes, "If you do what you love, you will never work a day in your life." Jared's foray into the MICE industry can be traced back to when he was a fresh business graduate from the National University of Singapore. His first job was in advertising, managing various clients across different industries. His involvement in outdoor advertising, shell scheme booth set-ups and event marketing piqued his interest about the MICE industry, and he decided to join Singapore EXPO. It has been 12 years since, but he humbly admits that he is still learning something new every day.
"Everyone has something to teach you. I always tell the interns and my staff that it is very important to have a positive attitude towards learning, especially in our field, where things move quickly. You need to know how to tap into the collective wisdom of the people you work with to resolve issues efficiently," he says.