Overview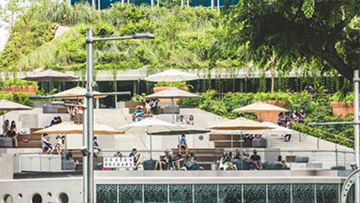 Shop the Best of Local at Design Orchard
Looking for authentic local buys and brands from Singapore but strapped for time for a shopping hunt from one store to another? Design Orchard is your one-stop destination to shop the best of local.
The 2.5-storey space is situated along Orchard Road – Singapore's premier shopping belt – and houses over 60 home-grown brands across 9,000 sq ft of retail space.
Open since 25 January 2019, this joint effort between Enterprise Singapore, JTC Corporation and the Singapore Tourism Board (STB) is a multi-hyphenate venue. It is a creative incubator, vibrant events space and a dazzling showcase of some of Singapore's most beloved brands, lauded designers and talented newcomers.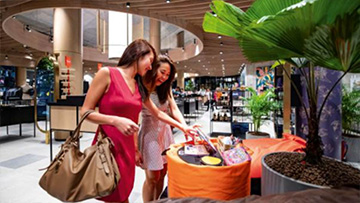 Retail Experience
True to Design Orchard's spirit of innovation, the space features retail technology that will make your shopping experience a breeze. Interactive mirrors offer insights into the brands housed within the mall, and also serve as digital product catalogues. Making payment for your purchases is also an effortless experience with its self-checkout stations.
Carefully curated are new, emerging and established brands across categories such as fashion apparel, fashion accessories, beauty and wellness, food souvenirs and small home furnishings. Some labels to look out for include homeware brand Onlewo, Ginlee Studio for timeless fashion items and Gnome & Bow for well-made bags and other accessories.
Besides design labels, Orchard Design also offers a plethora of lifestyle services and a range of delectable local food items, ranging from Benns Chocolates to artisanal tea purveyors Monogram Tea. Looking for souvenirs with a unique local touch? You can create customised fragrances at Oo La Lab, or choose from a selection of handcrafted scented candles and sprays at Artisan of Sense.
Catch a breather from shopping at the open amphitheatre cum events space at the rooftop, which doubles up as a green hangout to take in the lively scenes at Orchard Road.
Ms Ranita Sundra, Director of Retail and Dining at STB, said, "Singapore is home to many global brands. As these brands become more ubiquitous, we noticed that more people are drawn to local products with a Singapore story.
"Design Orchard is thus an exciting opportunity for us to profile the best of Singapore talent under one roof at a prime location on world-famous Orchard Road. Local and international visitors can look forward to a livelier and more exciting Orchard Road, with the opening of this new development."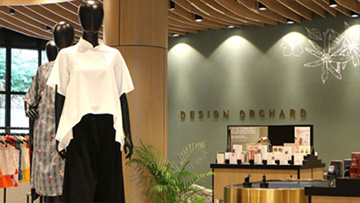 Fashion Incubator
Apart from retail opportunities for locally designed products, Design Orchard also aims to nurture the budding entrepreneurs behind these brands.
Naiise conducts mentorship programmes that link emerging labels with successful Singaporean business founders, for guidance in areas such as marketing, merchandising and expansion planning, while the runs an incubation space that is home to co-working facilities, photography studios and creative spaces for some of Singapore's brightest young design talents.
There are also themed workshops and events that are organised for public participation every month. Visit Design Orchard's website and Facebook page to find out more.