Overview
For most, it is a matter of time before vision becomes hazy and blurry as cataracts develop with age. It is therefore not surprising that ophthalmic surgery is one of the most common forms of surgery, as it can help to improve the vision and quality of life for patients.
The Singapore based Asia-Pacific Association of Cataract and Refractive Surgeons (APACRS) oversees the dynamic developments in cataract and refractive surgery. As a medical, niche society dealing with ophthalmology, the members of APACRS are all clinicians and professionals involved in the field of cataract and refractive surgery.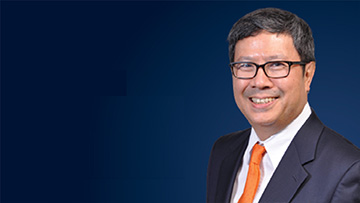 "Our main mission is the education of our members, as well as the dissemination and promotion of advances in the various fields of anterior segment ophthalmic surgery in the Asia-Pacific region," said Dr. Ronald Yeoh, immediate Past-President of APACRS.
While the Asia-Pacific geographically represents about a quarter of the world, it is home to over half the world's population. Over the last few decades, rapid development in the region has led APACRS to become a hub for the exchange of ideas and the education of young ophthalmologists.
"Professor Arthur Lim, who founded the association, has guided the association's ethos to educate and share knowledge," said Dr. Yeoh, explaining that Prof. Lim had always held to the belief that freely sharing professional knowledge leads to better health outcomes all round, even when some medical practitioners were protective of their knowledge and critical of his approach.
"Prof. Lim also encouraged us to go on the world stage. He said that it was not good enough to be top in Asia, we had to be as good as other surgeons in the world," said Dr. Yeoh. "Today, APACRS has become a conduit for the many talented cataract and refractive surgeons in the Asia-Pacific to present on the world's stage. Ours may be the youngest of the international cataract and refractive societies, but because of the relationships we have built, our members speak and represent the society at all the major global conferences."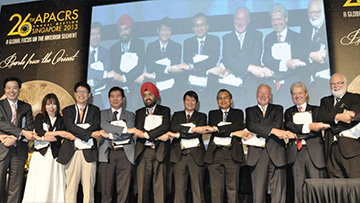 A Meeting of Minds
A key highlight in APACRS' calendar is the annual meeting held for its members in the Asia-Pacific region. The society's annual meeting features a carefully curated scientific program, that is tailored to doctors in the Asia-Pacific and includes important practice information provided by a top-rate faculty from around the world. The scientific program includes Masterclasses that cover the hottest topics in ophthalmic surgery, and features the Combined Symposium of Cataract and Refractive Societies (CSCRS).
When members gather, they get to interact and exchange scientific information, which generates new ideas and breakthroughs that lead to more effective and efficient patient care. There have been 32 annual meetings so far, with 1,500 to 3,000 attendees at each of these meetings.
A highlight of the annual meetings is the APACRS Film Festival, which is like the 'Academy Awards' of ophthalmology that showcases 8-minute films that are both entertaining and educational, displaying new innovation and breakthroughs in ophthalmic surgery.
"These films range from the very technical – such as how to do cataract surgery or how to implant a lens – to general interest films that may provide a broader sense of what's new and exciting in ophthalmology, highlighting the latest techniques, technologies and ideas. These educational movies from the Asia-Pacific have done well and have won many prizes at global conferences," said Dr. Chan Wing Kwong, Secretary of APACRS.
APACRS' proactive role in encouraging surgeons to make these films has resulted in Asia-Pacific films winning half or more of the prizes at the recent American Society of Cataract and Refractive Surgery (ASCRS) film festival.
"It is a lot of work to make a film," explained Dr. Yeoh. "To make an 8-minute movie, you may need to collect years of videos and clips, edit everything, provide storyboards and narration. More and more people are realising that film media is a great way to teach."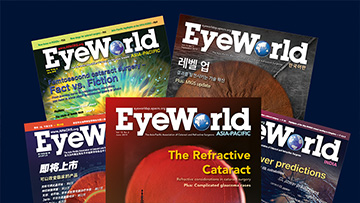 Continually educating
Over the years, the APACRS has developed various instruments to fulfill its mission to educate. Among them is EyeWorld Asia-Pacific, a quarterly news magazine that keeps its readers abreast of the latest developments while keeping its perspective on what is relevant to the Asia-Pacific region. Besides being available in English, the magazine is also translated to Chinese and Korean, and distributed in both digital and hard copy to some 30,000 ophthalmologists in over 22 countries in the region.
The digital version of EyeWorld Asia-Pacific is available on the society's website, and provides its members with important news, as well as a convenient biometry calculator that is considered to be one of the most accurate intraocular lens (IOL) power calculation formulae utilising various IOL formulae developed by Prof. Graham Barrett: the Barrett Universal II formula, the Barrett Toric Calculator, the Barrett True-K Formula, the Barrett True-K Toric Calculator, and the Barrett Rx Formula. This is arguably the most popularly used lens implant calculator in the world today.
While the Covid-19 pandemic forced countless events to be cancelled or postponed, APACRS presses on with its mission to disseminate and educate remotely, and is exploring other avenues to keep in touch with fellow ophthalmologists.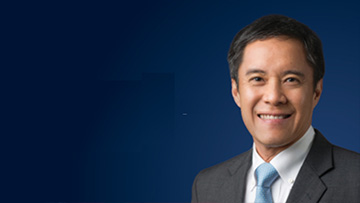 "Covid-19 has caused everybody to reevaluate how they do business, travel and how they have conferences. Early in the year, we were optimistic that it would pass, but when it became clear that we couldn't do face-to-face meetings we explored other avenues to keep in touch with our members all over the region," said Dr. Chan. "This pushed us to put online the many films that have won the film festival awards. So far, there are 80-90 films available for viewing online without additional fees or restrictions, a move that has met with a lot of interest.
"Thankfully we have already digitised Eyeworld Asia-Pacific. With no more face-to-face meetings, the APACRS' annual meetings will be a challenge. We will have to rack our brains to figure out how to jump the gap of social distancing to exchange professional ideas and information, as well as to view and experience different medical equipment and products," said Dr. Chan.
Another challenge faced by the society is how to engage younger doctors, who generally prefer virtual meetings and are less keen to attend conferences due to the time and costs involved. As a result, the society has developed an APACRS Young Eye Surgeons Program that is specially tailored for young and junior doctors, as well as offers grants to encourage young ophthalmologists to attend conferences to present research papers.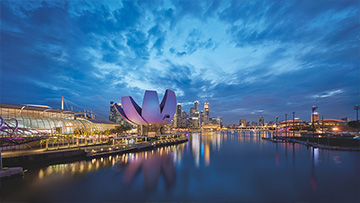 Singapore as the ideal regional hub
Singapore is well suited to being APACRS' regional hub, as its excellent geographical location and transportation links allow easy access to the different local ophthalmologist societies in the region. The APACRS permanent secretariat is located at the Singapore National Eye Centre, the national eye centre within Singapore's public sector healthcare network and is responsible for the organization of the society's day-to-day activities. The Singapore Eye Foundation has also provided APACRS with grants for meetings and projects, as well as helped to fund the IT setup to ensure constant and efficient online availability of the Barrett IOL calculator.
The island state's infrastructure and location has made it easy to coordinate the annual meetings. There is easy access to the different organisations and partners that participate in and sponsor the meetings as they are mostly based in Singapore.
"As a destination, Singapore is also an attractive destination to host the annual meetings. Whenever the meetings are held in Singapore, there is usually a good response from not only the delegates, but also those in paramedical field and industry who want to exhibit their wares," said Dr. Chan.