Overview
Justin Aow, 32, Director of food and beverage at Grand Copthorne Waterfront Hotel, is a familiar face in the F&B industry and is no stranger to catering for large MICE groups
Already regarded as a veteran in his field, Justin had an early headstart, becoming a founding member of the Youth Wing of Singapore's Food and Beverage Management Association (FBMA) at just 18 years of age. It was platform for aspiring F&B professionals to gather and network as well as to exchange business ideas with each other.
His love for F&B was further cemented when he worked as a kitchen trainee at a French fine dining restaurant in the early days of his career.
"I have always been fascinated by food's impact on the community, especially in Asian culture, where food has always played a key role in bringing people together," he says. He has since gone on to roles in prominent hospitality groups including the Fairmont, Park Hotel Group and today, Millennium Hotels and Resorts' Grand Copthorne Waterfront, where he oversees operations of 34 function rooms and three F&B outlets.
While many may baulk at the long hours and breakneck pace of F&B operations, Justin relishes the excitement and variety of events he gets to manage. "No event is exactly the same and it feels like we're doing something different every day," he shares.
One event that stood out was the Microsoft Educators Exchange that the hotel hosted in 2018. Some 400 educators from over 90 countries were in Singapore to attend the week-long programme.
While it wasn't the largest group that he has had to manage, Justin and his team were challenged by the diversity of dietary requirements and specific needs of guests, many of whom had to adjust to time zone changes. There were daily meetings to coordinate the hotel's efforts and the teams had to practice flexibility and quick thinking at all times.
At the riverside party where the delegation was introduced to local cuisine, he also arranged for staff members to don ethnic outfits to add an additional element of culture. "It was a huge success. Thankfully, the weather held up," he recalls.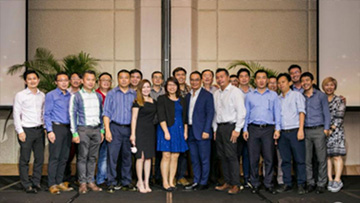 On top of his day job, Justin is also the current president of the where he looks at the industry from a strategic lens, working with government agencies and the private sector to tackle labour challenges, raise industry standards and endorse relevant educational programmes. The association is also actively discussing practical approaches and best practices to improve environmental sustainability within the industry.
Justin believes it takes "tenacity, humour and a zest for life" to enjoy a rising career in F&B. He adds, "We are in a fast-paced and dynamic business. Being able to make personal and unique connections with guests, team members and event organisers plays a critical role in one's success."