Overview
Paul Wan, managing director of UBM Singapore, which is a part of Informa PLC, shares the key factors behind the company's success in organising business events.
For anyone in the business of organising B2B events, the UBM name will probably ring a bell – or elicit an admiring nod. Its Singapore offshoot is a force to be reckoned with. Established in 1974, UBM Singapore is made up of over 100 staff members putting together various business events across Asia, Europe and North and South America.
---
They are behind some of the biggest industry events held in Singapore and the region, including Food&HotelAsia (FHA), ConnecTechAsia, Offshore Southeast Asia (OSEA), Sea Asia, Black Hat Asia and many more. The 2018 edition of FHA, in particular, drew some 81,000 attendees and 3,500 exhibitors from around the world.
In 2019, UBM is spearheading information security conference Black Hat Asia (March), maritime industry event Sea Asia (April) and the biggest regional tech expo, ConnecTechAsia (June).
Managing director and industry veteran Paul Wan attributes the company's success to its people. "UBM's greatest asset is undoubtedly our team," he states simply, adding, "Our success is built upon bringing people together on one platform to form meaningful relationships, to make great things happen."
The process of building a strong, passionate team begins right in the office, where UBM consciously builds a culture of close collaboration, trust and cohesiveness among colleagues. The team spirit shows up in the form of resilience against challenges and nimbleness to adapt to disruption, Paul says.
---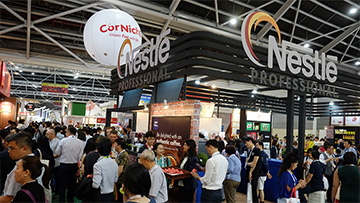 The planning of FHA 2020 is one such example. FHA has grown to an unprecedented scale – even by splitting the exhibition across two venues in 2018, it has become difficult to host the expected number of visitors and exhibitors. UBM Singapore team brainstormed and came up with a plan to decisively separate FHA into two independent events: FHA-HoReCa and FHA-Food & Beverage to cater to different segments of the industry.
The team also has to overcome the nagging challenge of cost. "Being conscious of the fact that cost is always an important factor for our clients to consider when planning for their visits, we must ensure our events are much more outstanding than other regional events in terms of quality and experience, and deliver a much higher value to make their investment even more worthwhile," says Paul.
---
In this year's ConnecTechAsia, UBM introduced new initiatives including business matching programmes to allow exhibitors to meet with potential buyers or partners before the event and allowing "fast entry" for pre-registered visitors with self-printed badges. Also, at 2018's FHA, an "FHA TV" aired key event info and highlights from both venues so attendees were kept abreast of the whole event.
While the industry may be demanding, dynamic and competitive, having a cohesive operational team has helped UBM smoothly tackle obstacles in its path. For companies looking to hit the next frontier in organising successful MICE events, Paul has these simple parting tips: "Plan well, stay nimble, be focused, work hard and always collaborate."