Driven by rapid advances in technology, today's global digital economy is opening doors to new business opportunities. As companies focus on building a strong brand presence and reputation as well as goodwill and trust with their customer base on global e-commerce and social media sites, they recognise the growing importance of protecting their trademarks and related intellectual property (IP). Against this demanding backdrop, the 142-year-old International Trademark Association (INTA) is ramping up efforts to support its massive membership base of over 6,500 companies and 34,350 professionals and brand owners.
Mr Seth Hays, INTA's Chief Representative for Asia Pacific, shares how this not-for-profit association is growing steadily in scale and relevance, to foster consumer trust, business growth and innovation by advocating the economic and social value of brands.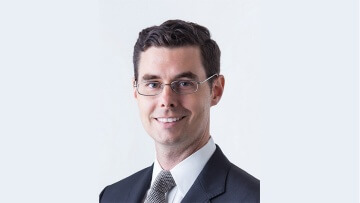 Given INTA's long history of supporting trademark owners and protecting trademark rights, how has INTA managed to remain relevant in today's hyper-connected world?
INTA was founded in 1878 in New York by 17 merchants and manufacturers. Known then as the United States Trademark Association, it gained prominence during the industrial revolution, when products were distributed widely, not only in the United States but across state borders to the world. INTA stepped in then as the organisation dedicated to harmonising laws and converging practices for global businesses to access trademark and IP rights protection more easily and consistently.
Fast forward to present day, the demand for global brand protection has grown exponentially and increasingly complex in the world of digital e-commerce. According to Ocean Tomo, LLC, the S&P500 market value of intangible assets grew from 17% in 1975 to 84% in 2015. Supply chains have globalised. E-commerce is expanding rapidly, and more and more consumers continue to make purchases online . New technologies are propelling product and market development as well as brand communications forward at breakneck speeds.
However, counterfeiters have followed consumers online, and the same sites and tools that facilitate global e-commerce have made infringement of trademarks and IP rights that much easier. Countless incidents of such violations emerged in the wake of the recent COVID-19 pandemic. Counterfeiters have seized opportunities to take advantage of motivated buyers, flooding the market with fake, substandard goods, including medicines, surgical masks and test kits.
In response to such trends and developments, we have sharpened even further our focus on INTA's mission and three-pronged strategy. This encompasses, firstly, promoting the value of trademarks and brands; secondly, reinforcing IP - and trademarks specifically - as the foundations of consumer trust; and, thirdly, embracing innovation and change to stay relevant amidst developing market trends.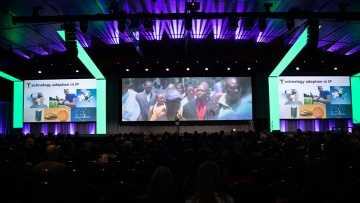 INTA's role in enabling change can be seen in the redefining of the role of the trademark practitioner. As the digital age empowers consumers, it is also transforming consumer-brand relationships and consumers' expectations that brands should take the lead in addressing major social and environmental issues. It is thus timely to evolve and broaden the role of trademark practitioners to become 'brand professionals.' Likewise, IP offices need to evolve from being just registries to becoming 'innovation agencies.'
By creating and taking on global advocacy, communication, education, and networking opportunities, INTA is well positioned to meet the evolving needs of brand owners, government agencies, law firms, and the like. We are committed to substantive expansion to support our 6,500 member organisations across 185 countries. This involves extending our office network to new locations around the world, such as, Santiago, Chile in Latin America, and Singapore for the Asia-Pacific Office. .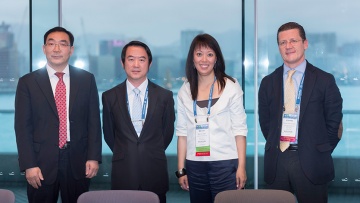 Please share with us some insights into INTA's recent achievements and initiatives to 'give back' to society.
INTA's CSR initiatives take many shapes and forms and involve active participation by members to benefit different communities. These range from charity volunteer events organised in conjunction with our annual meetings, to charitable organisations and causes we support, such as charity: water, which is working to provide access to clean water in communities in developing countries. We also integrate CSR into educational programming, like our first-ever virtual conference - 2020 New York Conference―Brands in Society: Their Influence and Responsibility.
INTA's vast member network and resources are roped in to collaborate on meaningful causes. Examples include two Memorandum of Understanding (MOU) signed with the World Intellectual Property Organization (WIPO) and the United Nations Development Programme (UNDP) to raise awareness of climate-friendly innovations and to set up UNDP Accelerator Labs for solving local challenges, respectively.
Another signature initiative is our volunteer-led Unreal Campaign. This not only educates young consumers about the value of trademarks and brands and the dangers of counterfeit goods, it also promotes IP and its positive contributions to the global economy, employment, and social welfare. In 2019, the Unreal Campaign reached more than 10,000 young consumers directly in 18 countries, and hundreds of thousands more online.
To reinforce our mission, vision and strategic priorities, we created the INTA Service Awards to celebrate members' outstanding CSR efforts and the INTA Members for a Better Society Award to recognise members who demonstrate the positive impact of brands on society and building consumer trust. Two individuals and three organisations received awards in 2019.
Our most recent CSR initiative – The Women's LeadershIP Initiative – reinforces INTA's long-term commitment to diversity and inclusion. It empowers women with leadership skills, helps unlock their full potential as brand professionals, and advances their IP careers to address underrepresentation of women in this field.
It is encouraging that our Brands and CSR Survey Report (March 2020) found strong commitment among INTA member organisations to CSR initiatives that create positive impact on global issues and give back to the community, which in turn contributes to brand value and loyalty. Additionally, INTA identified opportunities to promote the CSR program benefits to members so that they can effectively leverage the full benefit of their CSR policies and activities to enhance their brands.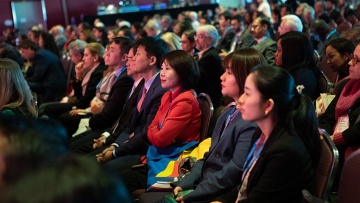 What are some key opportunities and challenges in running this global organisation with over 34,000 members?
Our members include many of the world's top talents in the fields of IP, law and business. INTA is a member-run organization. As such, members from around the world play an integral role in driving important decisions and directions at INTA. We have various structures in place to support their participation in areas that they are passionate about. For example, more than 3,000 committee members are actively involved in advocacy, building educational resources, and communications projects that benefit industry stakeholders and members.
On a practical level, to build closer ties and engage with members, INTA opened its Singapore office in 2016 to support their needs across Asia Pacific. This complements our China office, which we set up in 2003.
In 2020, we faced our largest challenge yet with the COVID-19 pandemic. Its impact affected every facet of our work, from education to advocacy. Our signature Annual Meeting, which is the world's largest gathering of IP professionals, was transformed from a physical event in Singapore into a virtual event, taking place this November.
Looking at this positively, this online format has created significant opportunity for INTA to share best practices on several fronts. Professionals from different fields and industries will be attending to understand cutting-edge trademark and IP information. Brand owners are sending more representatives as they do not have to incur travel and lodging expenses. Law firms that embrace this digital pivot will deepen their business relationships and increase their visibility with a new cohort of brand owners. On the advocacy front, many governments that did not have resources to attend the in-person meeting are now planning to join us. The Meeting features 12 educational tracks that align with major issues brand owners and other stakeholders are facing today, including diversity and inclusion, and managing your brand in times of crisis. We also have an entire track being presented in Mandarin, with government, judicial, and industry speakers. We are very excited!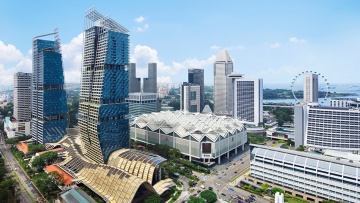 What were core considerations for choosing Singapore as its Asia Pacific office location in 2016? Looking ahead, how can Singapore continue to support INTA's growth plans?
As protecting trademarks becomes increasingly complex, INTA benefits from leveraging Singapore's business hub infrastructure to support our liaison efforts with members and government agencies across Asia Pacific. Singapore ranks highly on various city indexes by the World Bank and World Economic Forum, as being IP- and business-friendly. It is also home to a diverse and talented workforce, which reflects the international nature of INTA's membership.
As a world-class travel hub with extensive connectivity across Asia Pacific, we expect Singapore to be up and running efficiently once health and safety concerns around COVID-19 are addressed.
Given Singapore's reputation as an excellent international conference destination, we are looking forward to conducting our postponed Annual Meeting here in 2022. As many INTA members are foodies, it would be a wonderful treat for our 2022 Annual Meeting global attendees to savour the very best of local and international cuisines right here in Singapore!