Overview
As a small country with limited land for agriculture, Singapore depends heavily on imported food supplies. Its food manufacturing industry is innovating with the help of technology to feed its growing population.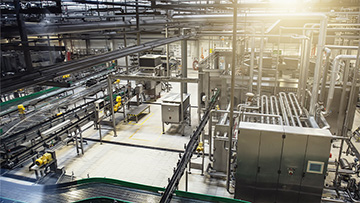 Land-scarce Singapore is constantly exploring new and innovative ways to keep up with the ever-increasing demand for food. Local firms have been making great strides to transform the food industry and tackle issues along the food supply chain – from farming, to food processing and packaging, to waste management.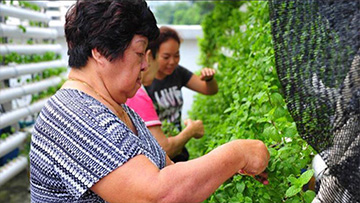 Urban Farming
Singapore depends heavily on imported food supplies to feed its population, largely due to the limited land available for agriculture. However, recent innovations in farming have seen crops being successfully cultivated in different parts of the city, including rooftops and homes.
Sky Green's patented vertical farming system scales as high as nine metres, and holds troughs which rotate around an aluminium frame to ensure that crops receive the sunlight and irrigation that they need to grow. It is the world's first low-carbon hydraulic farm, and can produce 10 times more yield per unit land area than traditional farms.
Comcrop opened its first urban farm on the rooftop of *SCAPE, a mall in the heart of Singapore's main shopping district of Orchard Road. The farm's hydroponics system uses significantly less water and land than traditional farming methods. Occupying a mere 6,000 square feet of space, the efficient farming system produces several hundred kilograms of vegetables and herbs a month, which are sold to numerous local food and beverage establishments.
Innovations in food processing and packaging
The demand for food is increasing in tandem with population growth and it takes more than just increasing food production to meet the growing demand. . Innovations are needed in food processing and packaging, for example, to extend the shelf life of food products and potentially reduce food wastage.
High Pressure Processing (HPP) is an advanced technology that utilises pressure, instead of heat or chemicals, to extend the shelf life of food products by two to four times while retaining its nutritional quality. A collaborative effort between Warehouse Logistics Net Asia, the Food Innovation Resource Centre and Enterprise Singapore has seen the launch of a HPP Resource Sharing Facility in 20XX. It operates on a pay-per-use model, allowing local food companies to tap on this technology without incurring high investment costs for equipment.
Advanced Polymer Composites Food Packaging, was developed by the Institute of Materials Research and Engineering (IMRE) in 20XX, and is seeing increasing use across Singapore… It includes a "high barrier" packaging that can keep out oxygen, moisture and UV rays to slow the speed of ripening or decomposition. By improving shelf life and retaining freshness, less food will be disposed of as frequently due to short expiration dates.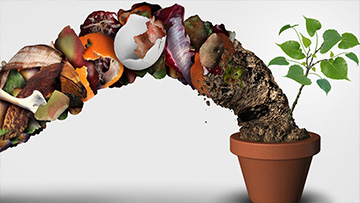 Innovations in Waste Management
Food waste accounts for about 10 per cent of the total waste generated in Singapore, and the amount is expected to increase with growing population numbers and economic activity. Apart from reducing food wastage at the source and redistributing unsold or excess food, there have been much-needed innovations in sustainable waste management.
A food digester machine, which was developed jointly by the Singapore Government's Agency for Science, Technology and Research (A*STAR) and Westcom Solutions, was set up in Jurong Town Corporation's Pandan Loop Industrial Estate at the end of 2018. It converts food waste into odourless fertiliser using a patented bio-engineering technology. Food waste that is put into the machine is broken down by small micro-organisms called microbes. Some 100kg of food waste can be reduced to 10kg of fertilizer. This process takes a day, and has contributed to an impressive 90% reduction of waste.