Overview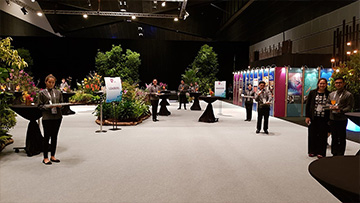 Singapore's eco-system of experienced and professional MICE players delivered yet another successful international meeting with the recent 33rd ASEAN Summit, capping a stellar year for the city-state marked by the hosting of the historic meeting of North Korean leader Kim Jong Un and American president Donald Trump as well as the Bloomberg New Economy Forum that gathered some of the world's top political and business leaders. From 13 to 15 November 2018, the summit was held at Suntec Singapore Convention Centre (Suntec Singapore), marking the final milestone of the city-state's year-long term as chairman of the 10-member ASEAN regional bloc.
As part of the three-day summit, there were meetings and dialogue sessions between ASEAN leaders and government officials, summits with China, Japan, South Korea, Russia and the United States, as well as informal breakfast summits with Australia and India.
Organising a high-profile event of this magnitude and significance was no mean feat. At summit venue Suntec Singapore, preparations were already underway two years in advance, and some 200 employees and 2,000 temporary staff were roped in to ensure everything ran like clockwork.
Tight Security A Key Priority
With hundreds of world leaders and delegates gathering at a single venue, security and safety were of paramount importance. Patrols and security checks were conducted throughout the day by Suntec Singapore's security team.
As the summit venue is connected to a shopping mall, the tenants and in-house emergency teams were also involved, to ensure everyone is well-drilled in contingency plans while business goes on as usual.
The Singapore Civil Defence Force also invested months of preparation, including tabletop and night exercises, and held technical exercises on-site to familiarise its personnel with the area.
The extensive planning and training paid off, and the event proceeded smoothly without a hitch.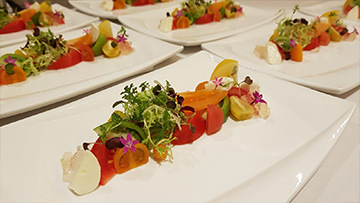 Leveraging Technology for Efficiency
On the tech front, an autonomous robot was deployed to patrol the event venue so as to complement the work of ground officers in looking out for suspicious activities.
The robot navigated independently on a pre-mapped route and was able to detect and avoid obstacles. It was also equipped with cameras that could transmit a 360-degree view of the deployment area. By leveraging technology to boost ground security efforts, the security team could maximise efficiency on the ground and better utilise its manpower.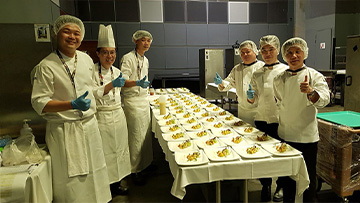 A Feast to Remember
Apart from the high-level talks and conversations that flowed throughout the day, a key highlight of the programme for delegates were the meals. From lunch buffets and plated dining, to tea breaks and a gala dinner, Singapore showed its guests why it is often touted as a "food paradise", serving dishes reflecting a wide variety of international and local flavours.
With delegates coming from diverse cultures and backgrounds, Suntec Singapore also had to cater to guests with special dietary requests, ranging from gluten-free and halal to vegetarian and vegan.
The gala dinner hosted by the Prime Minister of Singapore Lee Hsien Loong on 14 November was particularly memorable. Each of the four courses served was inspired by local favourites with a creative twist. For example, there was a soup inspired by laksa (noodles in spicy broth with coconut milk), and a smooth egg and coconut dessert infused with pandan, a tribute to the much-loved breakfast spread, kaya (a traditional jam made from coconut and eggs).
From start to finish, Singapore's passion and dedication towards delivering top-notch hospitality shone through in every aspect of the delegate experience. The result is a smoothly-run and flawlessly-executed event, a testament to why the city-state is one of the best MICE destinations in the world.