In Conversation With:
Aloysius Arlando
Aloysius Arlando, SACEOS President and CEO of SingEx Holdings.
2019 was a significant year for Singapore Association of Convention and Exhibition Organisers and Suppliers (SACEOS). The business events trade association turned 40, and welcomed MICE industry veteran Aloysius Arlando, currently the CEO of SingEx Holdings and President of the International Association of Convention Centres (AIPC), as its new President. We speak to Mr Arlando on his views on how the MICE industry has evolved, how event organisers can seize the opportunities brought forth by technology disruption, and what it takes for an individual to thrive in this industry.
New industries, new intersections
Mr Arlando believes that the MICE industry is on the cusp of exciting change. On how he thinks the MICE industry has evolved over the years, Mr Arlando comments, "I think it's getting exciting amid the challenges that we see today geopolitically. But more importantly, with the digital era, we see that MICE event platforms are becoming enabling platforms.
"What this means is that as industries disrupt, you are going to get new intersections of play and you are going to get two eco-systems representing different industries coming together. That's going to be exciting because it means value creation is going to be very much on the uptake."
While Mr Arlando emphasises that nothing beats meeting face to face, gone are the days where events simply mean putting a table and two chairs together, or setting up a booth with a business card collection box. Today's meeting participants are getting more demanding and expect a significant return on their time and engagement when they show up at a business event.
"A successful business event is a platform created for knowledge exchange; where conversations can continue beyond the event to collaborate and find solutions for the industry challenges that we face in today's world.
"Event organisers and owners need to understand their customers well so that they can match the profiles of attendees, find out what these attendees are seeking and therefore design the programmes accordingly – whether it's a conference track, a hackathon, or start-up zones," he advises.
Technology in the MICE space
Today, it is impossible to avoid mentioning technology alongside innovation, and the MICE space has readily integrated technology into the event platform. Mr Arlando believes that technology is an invaluable tool that enables conversations to continue long after an event has ended.
"We would have short-changed ourselves if we were to look at an event just as a three-day engagement. When you participate in an event, you are getting new knowledge, you are understanding better about the markets you want to penetrate, you are building new networks.
"How do you keep this alive after the event? We can do that by building and being part of communities online. Nothing beats continuing those conversations, connecting with unusual dots, with new communities, and work with new industry players to create value for the business environment you are operating in, or address industry challenges."
Agility, adaptability and the right attitude
Mr Arlando delivering the opening address at the Singapore MICE Forum 2019 together with Chief Executive of Singapore Tourism Board, Keith Tan
Education is one of SACEOS' key priorities. So what attributes or skill sets does one need to thrive in the MICE industry? Mr Arlando says he subscribes to the belief that everyone has a talent; he opines that it is more important to understand oneself, have the right attitude to learn, persevere and the "ability to flex". He counts the greatest investment a person can make is in themselves and know what his/her strengths are.
When asked to elaborate how much he personally had to "flex" in his career in the MICE industry, Mr Arlando quips, "I always go back to what my mother used to say: 'You've got two ears, so listen more and speak less.' You must be willing to hear the ground, hear the industry, the pain points, the grievances, and try to understand… One shouldn't be too fixated on what things ought to be. You need to be flexible and be prepared to zig while others zag."
About Aloysius Arlando
Since 2010, Mr Arlando has been the Chief Executive Officer of SingEx Holdings, with business interests in the management of Singapore EXPO Convention and Exhibition Centre and new-to-market trade events like the award-winning Singapore Fintech Festival. He is also the current president of the International Association of Convention Centres (AIPC).
In April 2019, Mr Arlando was elected president of The Singapore Association of Convention and Exhibition Organisers and Suppliers (SACEOS) by the industry.
He wasted no time in strengthening SACEOS's international MICE industry network. At the Singapore MICE Forum 2019, SACEOS rallied fellow trade associations to jointly build a stronger business events industry for the region. It also signed the Asia Community Building Pledge together with four other trade associations* to foster stronger and mutually beneficial cooperation.
This signing is part of the action plan of the Asia-Pacific Community Building Manifesto spearheaded by SACEOS. The manifesto, developed in consultation with 60 industry leaders, aims to gather like-minded stakeholders across various industries to develop new solutions that address industry challenges or emerging industry needs.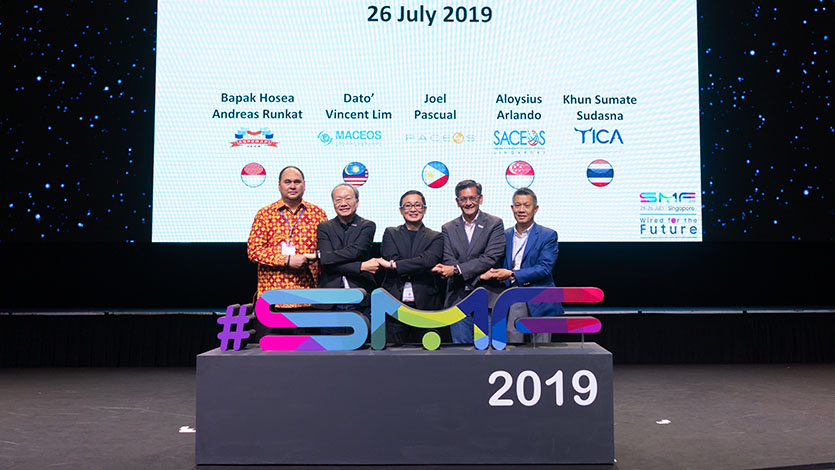 Led by Mr Arlando, SACEOS and four other trade associations in the region signed the Asia Community Building Pledge to foster stronger and mutually beneficial cooperation
"SACEOS recognises that in its evolving journey as a leading association for the business meetings and events industry, it needs to strive to stay abreast, and share key and relevant issues impacting the industry," says Mr Arlando.
*Indonesia Exhibition Companies Association (IECA), Malaysian Association of Convention and Exhibition Organisers and Suppliers (MACEOS), Philippine Association of Convention/Exhibition Organizers and Suppliers Inc. (PACEOS), and Thailand Incentive & Convention Association (TICA).